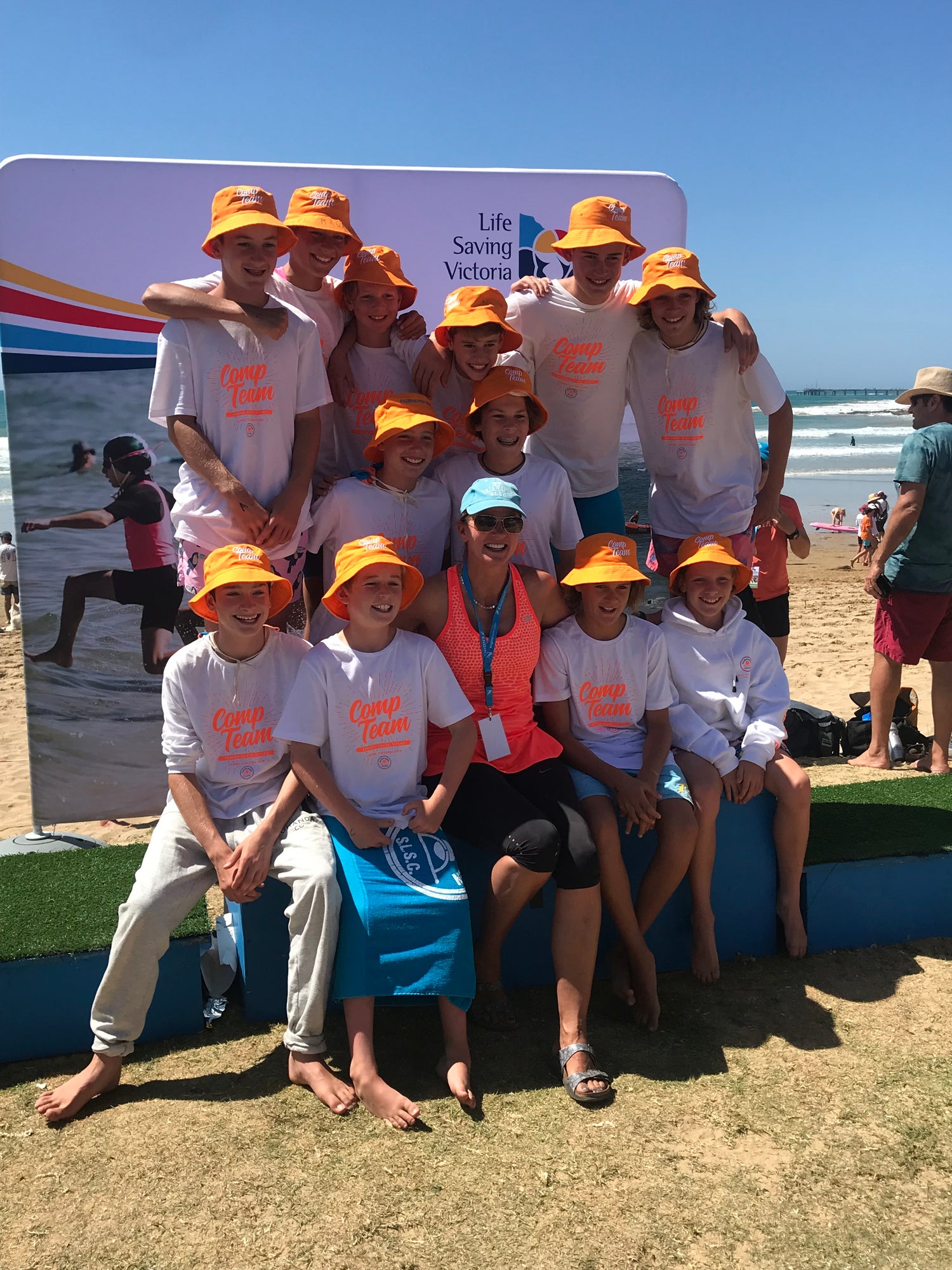 Nipper Carnivals
The Victorian Junior Surf Life Saving Carnival season begins in spring and culminates with the Junior State Championships in March each year. There are many events that may be contested at each carnival, although programs will vary at each event.
Carnivals provide an opportunity for Nippers to further develop the skills learnt through the Nipper program and offer a range of beach and water based individual and team events. Participation in carnivals is encouraged but is not compulsory.
Please See: LSV Sports Calendar for dates and locations.
Competition Skills Evaluation (CSE) Swim
From U9's Nippers can begin to compete in Junior Carnivals. To ensure that our Nippers have the ability, strength and fitness required to complete the swim and board courses safely they must first pass the CSE Swim specific for their age group, as determined by Surf Life Saving Australia.
The CSE Swim is based on the swim competition distances as set out in the SLSA Australian Surf Sports Manual for that age group and is an open water freestyle continuous swim (times & distances are set out below). Prior to doing the CSE Nippers must have already passed their age-appropriate Swim Proficiency swim.
We run the CSE Swim during our Nipper season, however it is not compulsory, and only children who wish to compete at carnivals are encouraged to do the swim.
The CSE Swim is mandatory for U12 - U13 to compete in ANY EVENT and for U9 - U11 to compete in ANY WATER events (excluding wade) at Junior Carnivals. 
Under 8 CSE

N/A (this group only
competes in beach and wade events)

Under 9 CSE

Minimum 150m open water
swim in under 12 minutes

Under 10 CSE

Minimum 150m open water
swim in under 11 minutes

Under 11 CSE

Minimum 288m open water
swim in under 12 minutes

Under 12 CSE

Minimum 288m open water
swim in under 10 minutes

Under 13 CSE

Minimum 288m open water
swim in under 9 minutes
Carnival Events
There are many different events for Nippers to compete in depending on their age.
Individual Events

Beach Flags
Beach Run
Beach Sprint
Board Race
Iron Person
Surf Race
Wade Race

Team Events

Aqua Cameron Relay
Beach Relay
Belt & Reel
Board Relay
Board Rescue
March Past
Rescue and Resuscitation (R&R)
Surf Teams
Wade Relay
Event Descriptions
Aqua Cameron

Aqua Cameron relay is an event where four members complete the legs of the Iron Person race. Three of the members will either swim, wade or board paddle while the fourth member will run and tag each member after each leg of the race.

Beach Flags

Beach Flags is a traditional event that has existed since the very beginning of Lifesaving. It involves a group of lifesavers competing for 'flags' (pieces of hose-pipe). An athlete is 'knocked­ out' each time and eventually there is a run off between two competitors. The one who wins the final flag, wins the event.

Beach Relay

Beach Relay is held on the
sand and consists of a team of four competitors. Members 1 & 3 are stationed at one end of the lanes whilst members 2 & 4 are at the other.

Beach Run

Beach Run is a run along the sand, around a marker and returning to the start position (distance varies with age)

Beach Sprint

Beach Sprint involves a sprint over a distance of 70 metres.

 

Belt & Reel

Belt & Reel is a beach event and
involves two competitors (one runner and one reeler) and an approved life saving reel. (U12 and above)

Board Race

Board Race uses a Nipper or Malibu board. It involves negotiating the break and then following a set course of buoys. You then return to shore surfing the waves back to the beach. First over the line is the winner

Board Relay

Board Relay consists of three paddlers completing the board course as above in a tag system. The first team to successfully pass all the buoys and cross the finish line will be declared the winner.

Board Rescue

Board Rescue - each team consists of two competitors; a swimmer and a board paddler. On the starters signal the swimmer enters the water and swims to their allocated buoy and signals to the board paddler to "rescue them". When the board paddler has picked up the swimmer, the two competitors paddle to the beach where they must cross the finish line.

Iron Person

This event trains lifesavers with the ultimate endurance ability. It consists of a board paddle, a swim and a run to the finish line.

March Past

March past team - a team of 11 marchers from each life saving club carries a reel and club flag, marching to music around a set course and are judged on their timing, marching ability, overall appearance and presentation.

Surf Race

Surf Race involves swimming around a course of buoys placed out in the ocean and swimming to shore

Surf Team

Surf Team Race (team of 4) involves all entrants swimming at the same time around a course of buoys placed out in the ocean and swimming to shore. Team rankings are based on the finish places of each swimmer.

Wade Race

Wade Race is a skill designed to teach nippers the art of proficient running into the surf.

Competitors begin on the beach start line and on the starter's signal enter the water and either wade, dive and or swim around three Life savers usually standing waste deep in the water and then run to the finishing line on the beach.

Wade Relay

Wade Relay involves teams of four who conduct a tag style of race over the same course as the wade race.