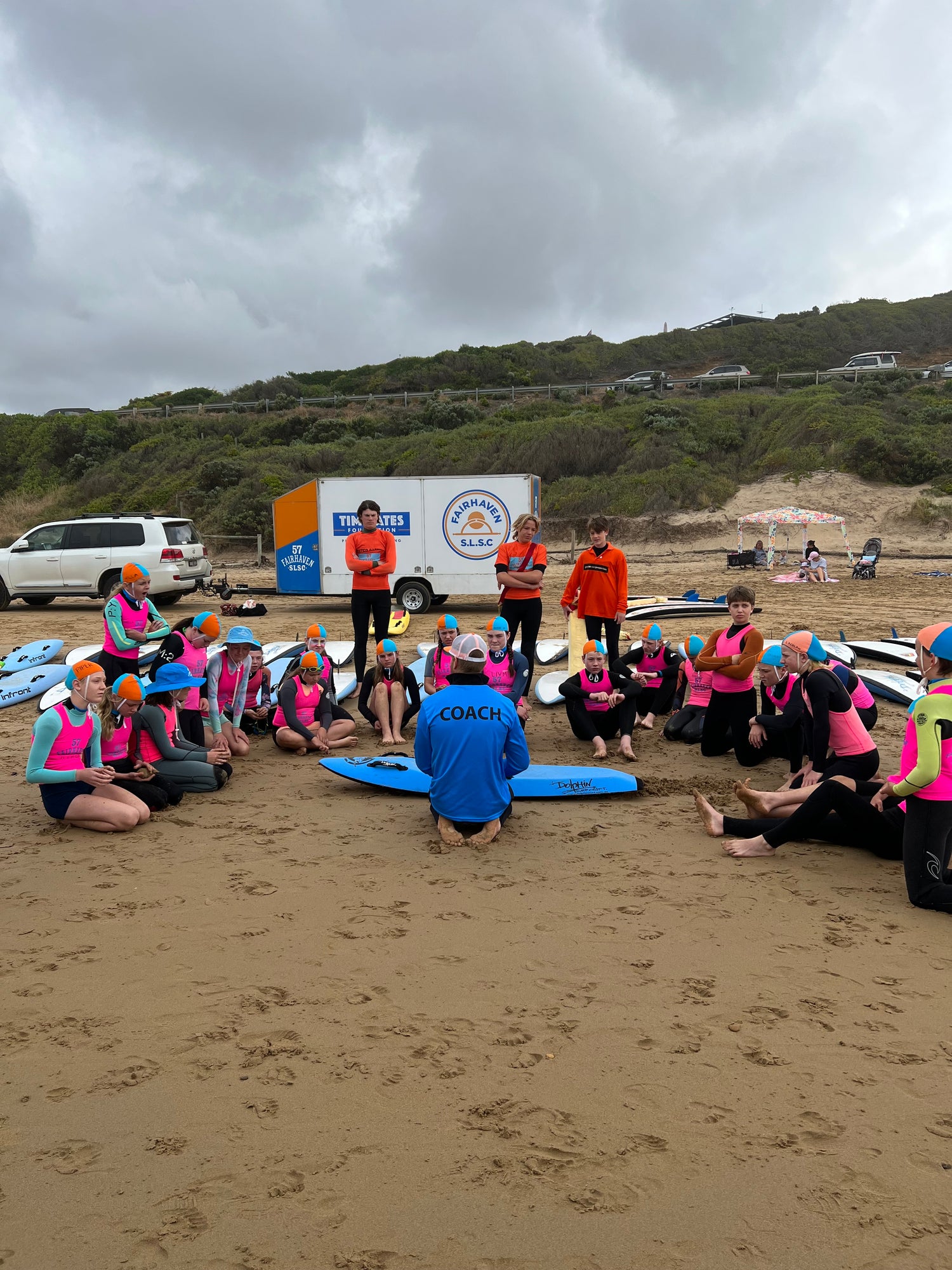 Parent Helpers
The Nippers Program depends entirely on help from the parents of the children involved. Without you, it simply cannot run.
A minimum of 1 parent (or sibling 15 years or older) is required, from each Nipper family, to fill a Parent Helper role.
Roles vary enormously; some are small, some are not so small, some are beach based, some are more administrative. Some require skill sets or training, others do not. All roles (for those over 18) require a current Working With Children Check. Whatever your situation or preferred helper role, we can find something to suit you.
Multiple Roles may be selected for single or multiple family helpers. Roles will be allocated on a 'first come first served' basis. You may be asked to fulfil an alternative role should a role be over subscribed.
Age Group Manager (AGM)

DUTIES:

Leader of a Nipper Age Group (20 children)

TRAINING / PREREQUISITES

AGM Admin Assistant

DUTIES:

Assist AGM with admin tasks.
Mark attendance and departures on paper roll
and on the Nipper Admin App.
Liase with parents re daily arrangements and re competition skills & Cosy Corner carnival entries.
Contact any parents who are late to pick up.
Stay at the flag until all Nippers in your group are collected and signed out.
Alert the Nipper Co-ordinators to any nippers who are not collected on time or who leave without being signed out.

TRAINING / PREREQUISITES

Nil formal
Nipper Admin App training sessions are available

AGM assistant (Beach & Water)

DUTIES:

Assist AGM with beach & water activities (Please Note: this is an active role)

TRAINING / PRE-REQUISITES

AGM Gear Steward

DUTIES

Collect flag and tubs from the Nipper Cage each morning.
On the beach set up flag and collect drink bottles and towels from Nippers on arrival.
During the session assist with gear on beach, ensure tubs (drink bottles, hats, towels and sports equipment etc) move with the group through activities.
At the end of the last activity encourage Nippers and parents to pack up the activity (this may include washing boards and returning them to the trailer)
At the end of the session ensure all sports equipment is returned to the tub, take down the flag, return the tubs and the flag to the Nipper Cage

 
TRAINING/PREREQUISITES:

Water Safety Officer

DUTIES:

Water safety either attached to an age group or Swim /Board area

TRAINING / PREREQUISITES:

SRC or Bronze Medallion required

Specialist Coaches

DUTIES:

Board, swim, running, flags, surfing, belt & reel coaches

TRAINING / PREREQUISITES:

IRB Driver & Crew

NUMBER REQUIRED:

IRB Driver and Crew for each session (rostered)  

DUTIES:

TRAINING / PREREQUISITES

First Aid Officer

NUMBER REQUIRED:

2 per day – 1 on the beach, 1 to teach CPR (rostered)

DUTIES:

To provide first aid as needed during each session.
To work with the Head of First Aid teaching CPR to the older nipper groups

TRAINING / PREREQUISITES

Medical / Nursing / Paramedic qualification

BBQ Manager

DUTIES:

Order sausages and bread and gas bottles
Liaise with Pia and Dave re storage
Manage the BBQ marquee set up and supervise the cooking and serving volunteers

TRAINING / PREREQUISITES

BBQ Coordinator

DUTIES:

Pick up the bread from Aireys General Store each morning.
Assist with set up of the BBQ marquee.

TRAINING / PREREQUISITES

BBQ cooks and servers

NUMBER REQUIRED:

5 parents each day
Please sign up via the roster on the wall of the kiosk. 
One age group per day

DUTIES:

Set up the marquee
Cooking / Serving
Taking money / using EFTPOS machine
Pack up

TRAINING / PREREQUISITES:

Competition data entry for Cosy Corner

DUTIES:

Take details of Cosy Corner registrations
Take payments for Cosy Corner (cash and EFTPOS)

TRAINING / PREREQUISITES:

Short training session on day

Gear Distribution Helpers

NUMBER REQUIRED:

 DUTIES:

To assist with gear pack packing and distribution to New Nippers.
Distribution of pre-purchased Nipper uniform to returning Nippers.

TRAINING / PREREQUISITES:

Gear stock take helpers

NUMBER REQUIRED: 

DUTIES:

Sort and count leftover stock of Nipper gear

TRAINING / PREREQUISITES